Previous Productions (partial list) at the CRS Barn Studio unless otherwise noted)
Non-profit status was granted to Triphammer Arts in 2013
The CRS Barn Studio was built in 1990
(additonal production information at operacowpokes.com)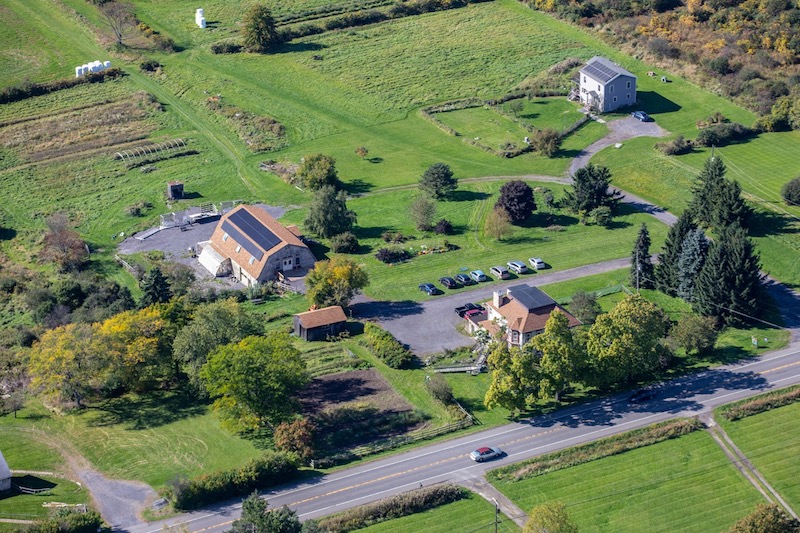 The CRS Barn Studio - Aerial Photo Jon Reis
Musical Theatre, Opera, Operetta:
Oklahoma! - Rodgers and Hammerstein                                            2018
Tenebrae, The Passion of Dietrich Bonhoeffer,  H. McElyea             2018
(Sage Chapel, Cornell University)
Camelot - Lerner and Loewe                                                              2017
The Classical Style - Steven Stucky                                                    2016
HMS Pinafore - Gilbert and Sullivan                                                 2016
Don Quixote at the Marriage of Comacho - Telemann                      2014
           (new translation by J. Goddard, S. Stull and D. Neal)
Hansel and Gretel - Humperdinck                                               2012
          (new translation by Gary Race)          
The Magic Flute - Mozart                                                           2010
Pirates of Penzance - Gilbert and Sullivan                                    2009
House of Butterflies - Denes Van Parys/John Herring                   1998
                        (world premiere)
           
Collaborative music and dance performances:
Water Music/Dancing on the Water - Cayuga Waterfront Trail                      2016-2018
A Midsummer Night's Dance - Schwartz Center, Cornell University 2014
Opera Cowpokes Alive!                                                                      1999 - 2013
                        Including new lyrics, texts, choreography, musical arrangements
                        by Goddard, Stull and Chwazik                                 
                        2013, 2007 (Cortland and Ithaca),
                        2003 (Syracuse and Ithaca),
                        2002 (filmed for public television), 2001, 1999
Broadcast of Opera Cowpokes Alive! on WSKG-TV                                     2008
Deck the Falls                                                                                                 2006
Songs of Love, Land and Sea                                                                         2006
The Handel Project                                                                                         2005
Re:Cycling - A Dance Happening                                                                   2005
When I Sing                                                                                         2000
                 
Dance concerts:
Moving Landscapes, an evening of dance and music                                    2008 - 2018
Moving/ Images/ Moving:                                                                               2004
A Concert of Original Paintings and Dances -          
Choreographers' Showcase                                                                            2003
Summerdance '99                                                                                           1999
Music concerts:
The Pulse of an Irishman                                                                                2017
Songs for a Summer Night                                                                              2015
Bowties and Broadway - Cayuga Chamber Orchestra fundraiser                   2014
Songs for a September Night                                                                          2011     
Arias Under the Stars                                                                                     2004
Baritones at the Barn                                                                                      2000
Songs on the Solstice                                                                                       2000
Find out more about our 2018 season - http://www.triphammer.org/summer2018.html
Interested in our outdoor performances?
CRS Barn Studio, 2622 N. Triphammer Road, Ithaca, NY 14850; 607-257-2043
Steven Stull, Executive Director
Find us or donate on Facebook! https://www.facebook.com/triphammerarts/
If you are able to help support our activities with a donation or would like to volunteer your time or expertise, please visit http://www.triphammer.org/ or contact us at the email or address below. Since we are a 501(c)3 not for profit organization, your donations are tax deductible to the full extent of the law. To help support our programs, please contact us at the email or phone above.