TRIPHAMMER ARTS -
SUNSET CONCERTS AT THE FARM continue….
SATURDAY, AUGUST 8 at 7:00PM
(Rain Date SUNDAY, AUGUST 9 at 7:00PM)
Celebrating Musical Theatre
Lynn Craver, soprano
Steve Stull, baritone
Richard Montgomery, piano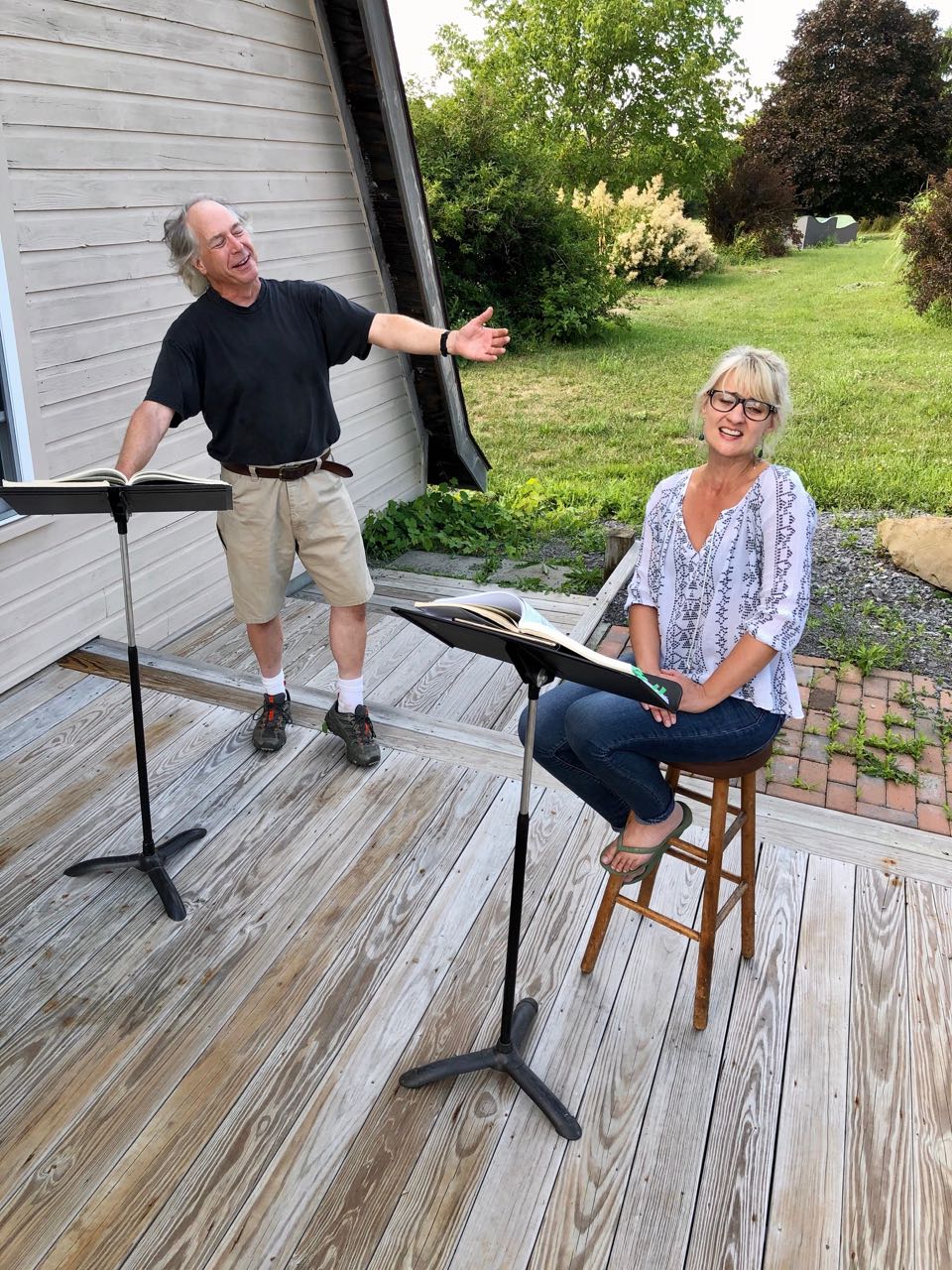 photo: Dede Hatch
Triphammer Arts welcomes you to our third Drive-In LIVE concert at the CRS Growers Farm! This time, we are delighted to bring you an hour of your favorite musical theatre solos and duets, featuring two of Ithaca's best-known singers - last seen together in Oklahoma! [2018] - Lynn Craver and Steve Stull, accompanied by Richard Montgomery, music director for Oklahoma, Camelot, HMS Pinafore, and many other Triphammer Arts productions.
Welcome to our third Drive-In LIVE concert at the CRS Growers Farm! As before, cars will be parked in the field with empty spaces on both sides and in front and back. Please remain near your car throughout the hour-long, amplified concert. Lawn chairs will be available, but please feel free to bring your own.
TICKETS:
Tickets will be available at the gate – there will be no advance sales. When you arrive, you will be directed to your socially distanced parking space in the large field below the barn. A masked attendant will come to your car to collect your suggested donation of $20 per car, payable by cash or check to Triphammer Arts. If you'd prefer to donate electronically, you can donate through PayPal or on Facebook at any time.
The gate opens at 6:00 pm.
Soprano LYNN CRAVER is a graduate of the Bachelor's and Master's programs in Vocal Performance at the Ithaca College School of Music and a founding member of Opera Ithaca. A versatile coloratura soprano and actress, Lynn has performed the title role in Viardot's Cendrillonas well as roles in Die Zauberflöte, Hansel and Gretel, Candide, The Gondoliers, The Bartered Bride, The Merry Widow and La Bohème.
Lynn served as Development Associate for the Kitchen Theatre and as a Production Coordinator for the former Ithaca Opera, and has performed with the CRS Barn Studio/Triphammer Arts, Cornell Savoyards, and Women's Works as well as appearing in recital at various local venues. Lynn has had a diverse teaching career and specialized in early education for over a decade, teaching at primary schools in NYC and Ithaca. Lynn combines her passion for teaching and love of music to teach voice to singers of all ages and skill levels. She is on the voice faculty of SUNY Cortland.
STEVEN STULL, baritone has appeared with Glimmerglass Opera, Tri-Cities Opera, Syracuse Opera, Artpark, BAM, and Kyrgyz State Opera, [the Society for New Music,] and with orchestras in Ithaca, Buffalo, Rochester, Syracuse, Anchorage, Jacksonville, and Norwalk. He can be heard on the CDs Home for the Holidays and Tales from the West Virginia Hills with the West Virginia Symphony. His other recordings (available at operacowpokes.com) include The Pulse of an Irishman, Opera Cowpokes, and Christmas from the Heart of New York, and he is heard as the Wolf in Grant Cooper's Boyz in the Wood with the Cayuga Chamber Orchestra. Steven is also in demand as a narrator for How the Grinch Stole Christmas, Peter and the Wolf, and other classicstories. A graduate of the Eastman School of Music and Oberlin College Conservatory, Steven co-founded the CRS Barn Studio with choreographer Jeanne Goddard.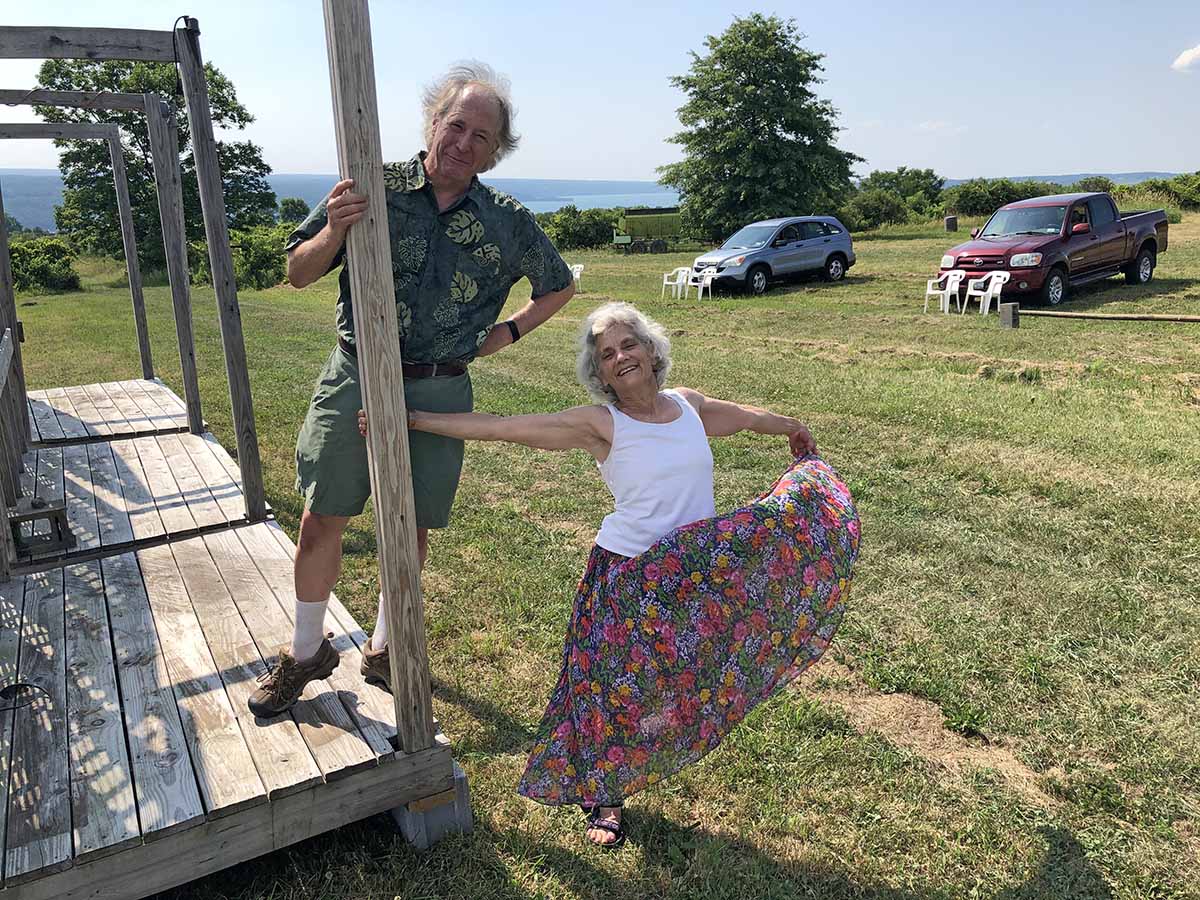 photo Dede Hatch


This programming is made possible in part with funds from the Decentralization Program, a regrant program of the New York State Council on the Arts with the support of Governor Andrew Cuomo and the New York State Legislature and administered by the Community Arts Partnership of Tompkins County. Additional funding comes from the Tompkins County Tourism Program and NYSCA-A.R.T./New York Creative Opportunity Fund (A Statewide Theatre Regrant Program), and our generous donors. To join our supporters, please visit triphammer.org
To donate via US Mail, please send your check to:
CRS Barn Studio, 2622 N. Triphammer Road, Ithaca, NY 14850; 607-257-2043
Steven Stull, Executive Director; Jeanne Goddard, President
Find us or donate on Facebook! https://www.facebook.com/triphammerarts/
If you are able to help support our activities with a donation or would like to volunteer your time or expertise, please visit http://www.triphammer.org/ or contact us at the email or address below. Since we are a 501(c)3 not for profit organization, your donations are tax deductible to the full extent of the law. To help support our programs, please contact us at the email or phone above. To donate via Paypal - please follow the Donate link below.

Triphammer Arts strives to - Provide a unique audience experience - Offer high quality performances at affordable prices - Collaborate across disciplines and bring artists together - Create a sense of community - Live and work in the landscape - Provide rehearsal space and time for other performing artists
Your support matters!
Sign up for our mailing list:
Triphammer Arts 2019 Season Sponsor - Tompkins Trust Company

2019 Marketing Sponsor: Flair Strategic Communications