TRIPHAMMER ARTS -
Triphammer Arts is delighted and excited to present
Drive-In LIVE! at the CRS Growers Farm
SATURDAY, JULY 25 at 7:00PM (Rain Date SUNDAY, JULY 26)
Paul Merrill, trumpet - Steve Stull, baritone - John White, piano
With dancers Jeanne Goddard, Karen Koyanagi, Risa Lieberwitz

Please join us for our second Drive-In LIVE concert at the CRS Growers Farm – an hour of mellow and upbeat popular songs to celebrate a summer evening, featuring Steve Stull, John White, and Paul Merrill, with dancers Jeanne Goddard, Karen Koyanagi, and Risa Lieberwitz.
The forecast for Saturday night looks clear – and cooler! – and the sunsets have been spectacular. The outdoor stage has been enlarged yet again to provide safe distancing for musicians and dancers. Cars will be parked in the field with empty spaces on both sides, and in front and back. Please remain near your car throughout the hour-long, amplified concert. Lawn chairs will be available, but please feel free to bring your own.
TICKETS:
Tickets will be available at the gate – there will be no advance sales. When you arrive, you will be directed to your socially distanced parking space in the large field below the barn. A masked attendant will come to your car to collect your suggested donation of $20 per car, payable by cash or check to "Triphammer Arts". If you'd prefer to donate electronically, you can donate through PayPal or on Facebook at any time.
The gate opens at 6:00 pm.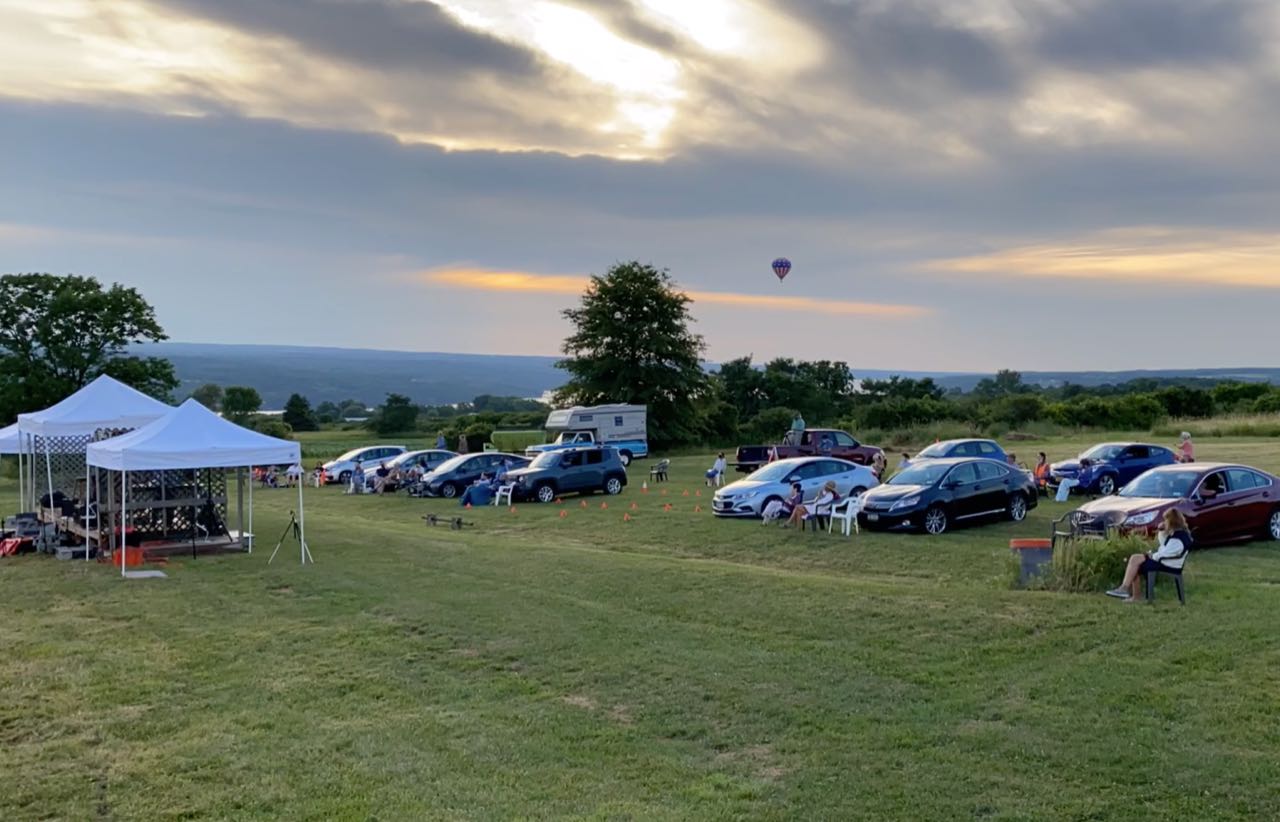 Photo from a video by Jon Reis
Performer bios:
JEANNE GODDARD has studied, taught, and choreographed in the language of contemporary dance since 1973. She has co-founded three regional dance companies, and her work has been commissioned by ballet and modern dance companies and by public television. Jeanne has trained and performed with Bill T. Jones/Arnie Zane Dance Company, June Finch/Danceworks, and many other artists. In central NY she has choreographed for Ithaca Opera, Tri-Cities Opera, Syracuse Opera, the Cayuga Chamber Orchestra, Women's Work, and Music's Recreation. Jeanne chaired the dance program at Wells College from 1987-2016 and has produced multi-disciplinary performance events at the CRS Barn Studio with Steven Stull since 1990.
KAREN KOYANAGI DeLUCA holds degrees from York University and the University of British Columbia, and has danced and shown her choreography in Toronto, Vancouver, San Francisco, NYC, Zimbabwe, and France, among other places. Ms. Koyanagi was a frequent performer with the American Dance Asylum, is a founding member of the B.F. Harridans Women's Morris, and was an adjunct dancer with The Liz Lerman Dance Exchange. She has taught at Syracuse and Binghamton Universities, 171 Cedar Arts, and the Rod Serling School of Fine Arts at Binghamton High School. Karen is always happy to work with Jeannie and grateful that CRS Barn Studio is here to help keep dance, music and creativity thriving in the Ithaca area!
RISA LIEBERWITZ has danced at the CRS Barn Studio for many years and has loved every minute of it! She would like to thank Jeanne Goddard and Steven Stull for creating such beautiful performance experiences at theCRS Barn. Risa has studied dance with extraordinary teachers in Ithaca – Jeanne Goddard, Dansingtree Moonwater, Lesley Tillotson, Joyce Morgenroth, Jim Self, and Janice Kovar. When she is not dancing, Risa is a Professor of Labor and Employment Law in the Cornell University School of Industrial and Labor Relations (ILR), where she has been on the faculty since 1982.
Trumpeter, composer, and educator PAUL MERRILL has been performing since the age of 10. He has toured with Hank Roberts, Half Pint, John Brown's Body, and the Grammy nominated Phil Woods Big Band, and in 1995 won a Downbeat award for his performance with the New Jazz Ensemble directed by Rufus Reid. As a trumpeter and/or big band director he has collaborated with numerous artists and can also be heard on such films as Suckerfish and The Substitute II. Currently pursuing a DMA at the Eastman School of Music, Merrill is a former faculty member at Ithaca College School of Music and currently the Gussman Director of Jazz Ensembles at Cornell University.
STEVEN STULL has lived and performed in Ithaca since 1986 and appears regularly with Cayuga Chamber Orchestra, Society for New Music, The Arts at Grace, Rochester Philharmonic, and Triphammer Arts. He has been a soloist in sixty performances with Symphoria, Syracuse Symphony, and Syracuse Opera. Mr. Stull has sung nearly eighty performances with the West Virginia Symphony and can be heard in their recordings Home for the Holidays and Tales from the West Virginia Hills. His other recordings include Boyz in the Wood with Cayuga Chamber Orchestra, The Pulse of an Irishman, Opera Cowpokes, and Christmas from the Heart of New York. Steven has appeared with Glimmerglass Opera, Tri-Cities Opera, Artpark, BAM, Kyrgyz State Opera, Opera Theatre of Pittsburgh, Oswego Opera, Anchorage Festival of Music, Opera Ithaca, Fredonia Bach and Beyond Festival, and orchestras in Buffalo, Erie, and Jacksonville. He is a graduate of the Eastman School of Music and Oberlin College Conservatory. Since 1990 Steven and choreographer Jeanne Goddard have presented an eclectic series of music and dance performances on the CRS Growers organic vegetable farm overlooking Cayuga Lake in Ithaca, NY. His numerous recordings are available from operacowpokes.com
Pianist JOHN WHITE has collaborated with such national artists as Rhiannon, Kim Nazarian, Paul Hanson, and Wycliffe Gordon. He performs frequently with local musicians spanning numerous vernacular styles and appears on a regular basis with the NEO Project and Backtalk bands, the Caribe Jazz All-Stars, and his good friend Steve Stull. He is Associate Professor of Music Theory at Ithaca College and also Director of the IC Jazz Vocal Ensembles. A published scholar, John is a co-developer of the TAKADIMI beat-oriented system of rhythm solfege. He collaborated with Jeanne Goddard in producing a CD of freely improvised music to accompany modern dance classes and has appeared annually at the CRS Barn in a wide range of performances, including Opera Cowpokes ALIVE.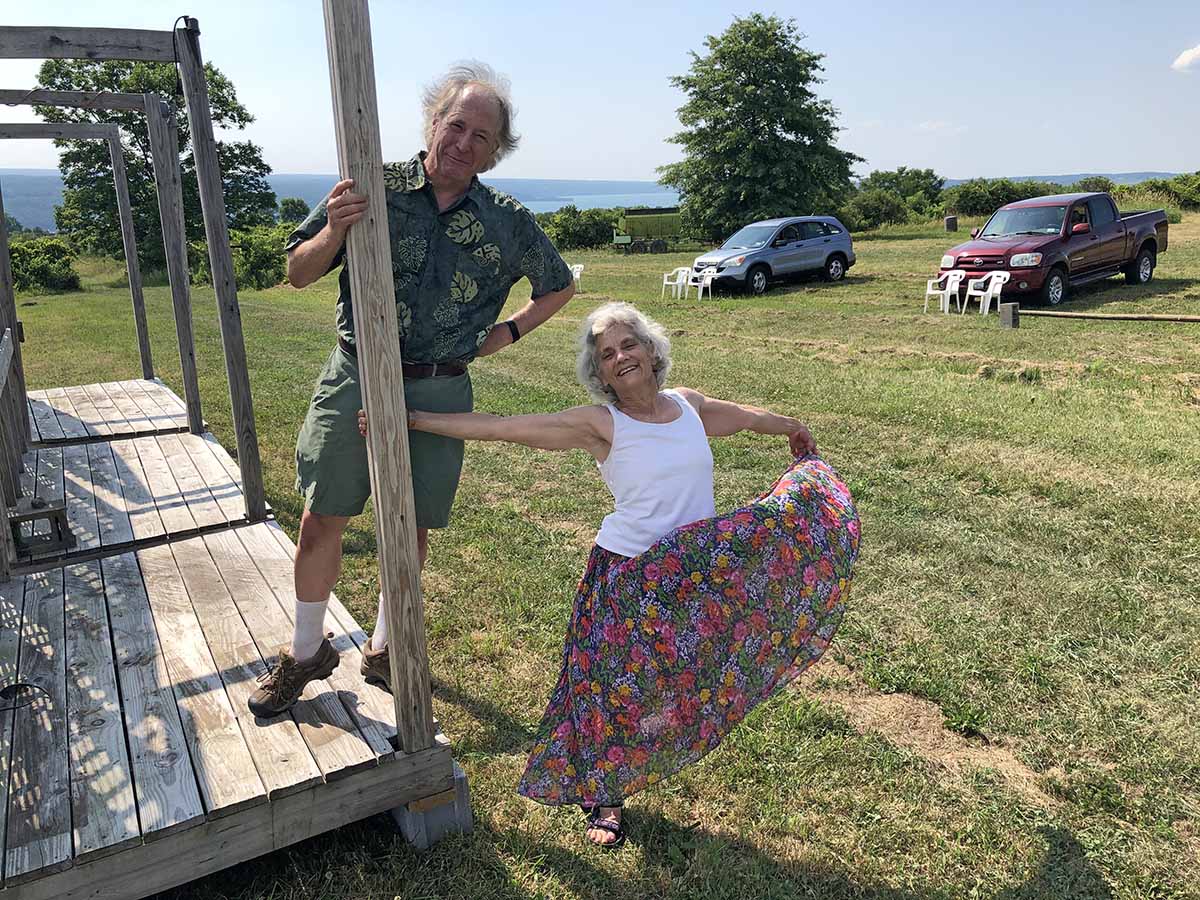 photo Dede Hatch


This programming is made possible in part with funds from the Decentralization Program, a regrant program of the New York State Council on the Arts with the support of Governor Andrew Cuomo and the New York State Legislature and administered by the Community Arts Partnership of Tompkins County. Additional funding comes from the Tompkins County Tourism Program and NYSCA-A.R.T./New York Creative Opportunity Fund (A Statewide Theatre Regrant Program), and our generous donors. To join our supporters, please visit triphammer.org
To donate via US Mail, please send your check to:
CRS Barn Studio, 2622 N. Triphammer Road, Ithaca, NY 14850; 607-257-2043
Steven Stull, Executive Director; Jeanne Goddard, President
Find us or donate on Facebook! https://www.facebook.com/triphammerarts/
If you are able to help support our activities with a donation or would like to volunteer your time or expertise, please visit http://www.triphammer.org/ or contact us at the email or address below. Since we are a 501(c)3 not for profit organization, your donations are tax deductible to the full extent of the law. To help support our programs, please contact us at the email or phone above. To donate via Paypal - please follow the Donate link below.

Triphammer Arts strives to - Provide a unique audience experience - Offer high quality performances at affordable prices - Collaborate across disciplines and bring artists together - Create a sense of community - Live and work in the landscape - Provide rehearsal space and time for other performing artists
Your support matters!
Sign up for our mailing list:
Triphammer Arts 2019 Season Sponsor - Tompkins Trust Company

2019 Marketing Sponsor: Flair Strategic Communications