TRIPHAMMER ARTS CONCERTS AT THE FARM SUMMER 2021
2021 Schedule:

Commissioned by Triphammer Arts and as seen here in June 2021-
Join us for the online video premieres of:
Cocoa Cantata by Robert Paterson and David Cote
Online YouTube Premiere: September 23, 7pm https://youtu.be/nlC3osTsc1M
With the American Modern Ensemble
featuring (pictured below L-R)
Steven Stull as Bobby Wonder
David Neal as Snackwright
Cree Carrico as Amara Bliss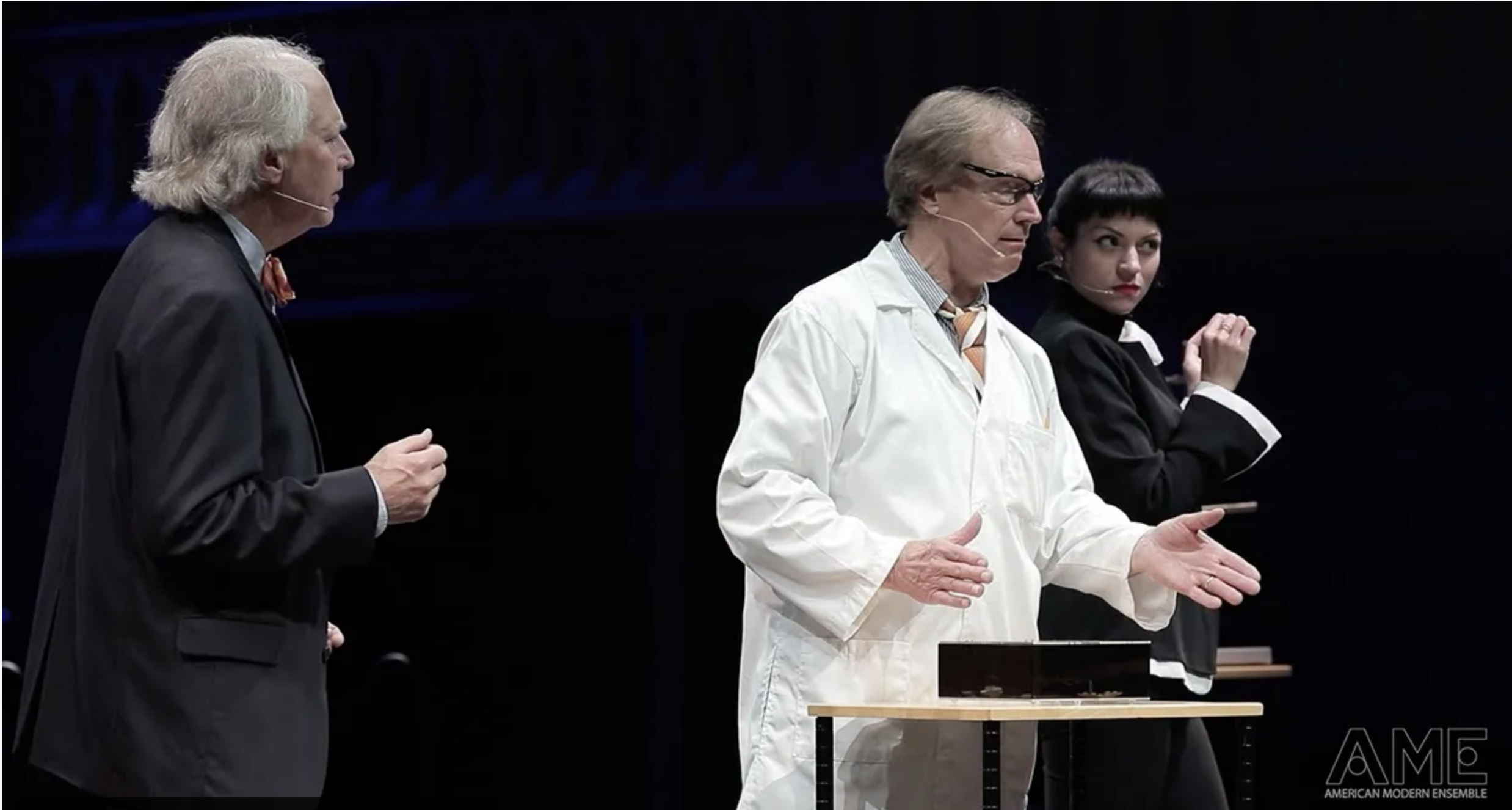 Coffee Cantata Online YouTube Premiere: September 28, 8am https://youtu.be/n7C4H9v7JBA
Click "Reminder"and join us!
FRIDAY, AUGUST 27 at 6:00pm
Beethoven String Quartets
Outdoor Barn Stage/
raindate - the weather cleared and the concert was held on schedule!
Beethoven opus 59, #2, and opus 74 quartets. The players are: Jonathan Hwang and Edgar Tumajyan, violins. Victoria Miskolczy, viola, Lindsay Groves, cello.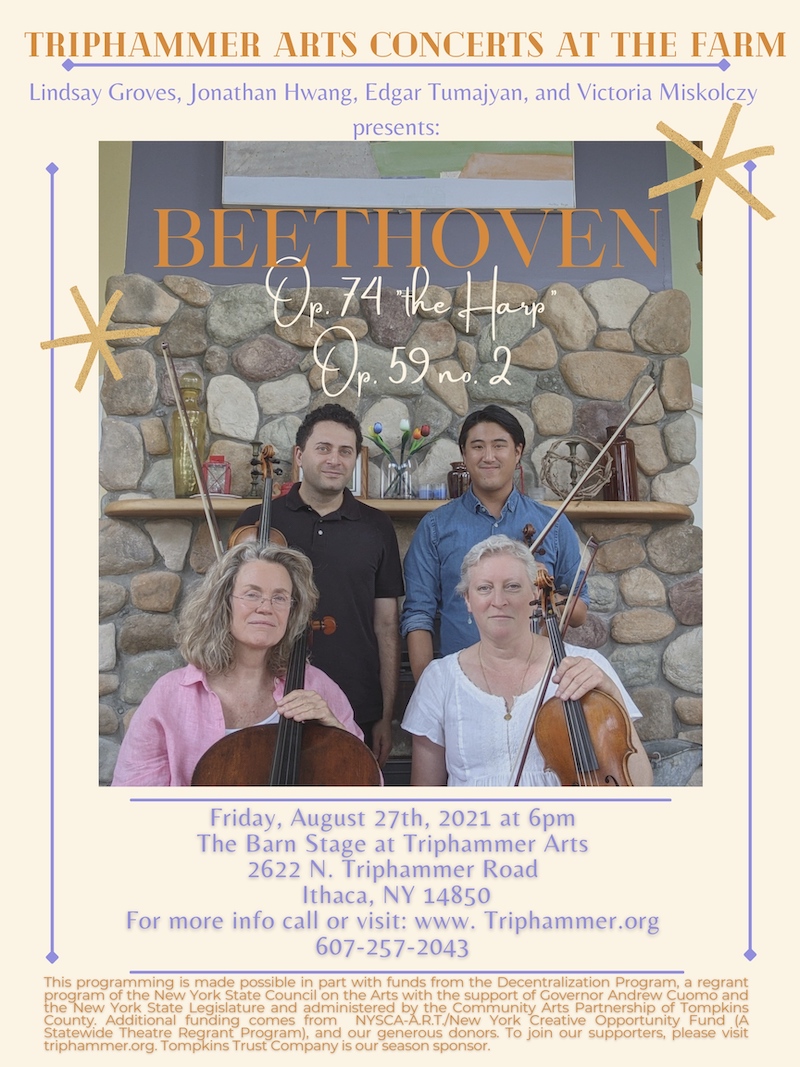 SATURDAY, AUGUST 28, No Rain Date necessary - The concert was held under clear skies!
Moving Landscapes/Choreographers Showcase
5:00pm - Art-Making with Dancers Improvising
6:00pm – Original Choreography & Performance on the Drive-In LIVE Stage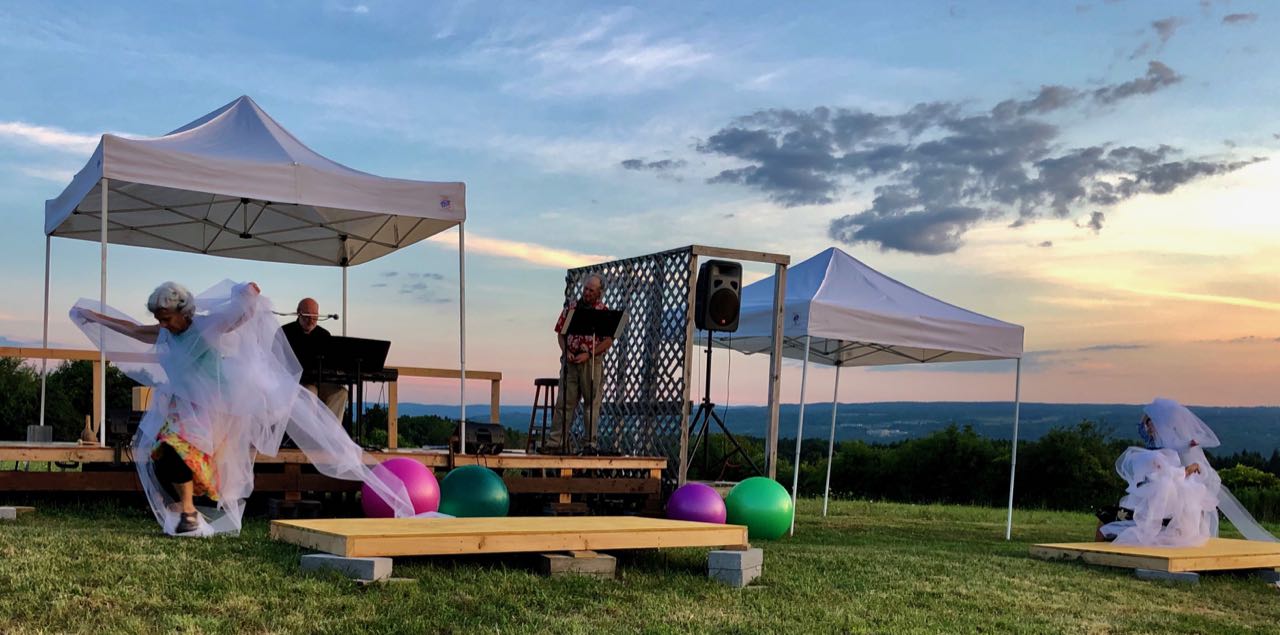 AUGUST 31 – SEPTEMBER 11
Triphammer Arts will be CLOSED for vacation
Our season is sponsored by Tompkins Trust Company

TICKETS:
Tickets will be available at the gate – there will be no advance sales. When you arrive, you will be directed to a socially distanced seating area. A vaccinated attendant will collect your suggested donation of $20 per car (or $10/person), payable by cash or check to Triphammer Arts. If you'd prefer to donate electronically, you can donate through PayPal or on Facebook at any time. The gates open one hour before each performance.
And there's more:
CRS GROWERS FARM STAND – Fresh organic produce will be available for purchase, in the shady area near the outdoor restroom. Also provided: water (free) and sanitizing wipes.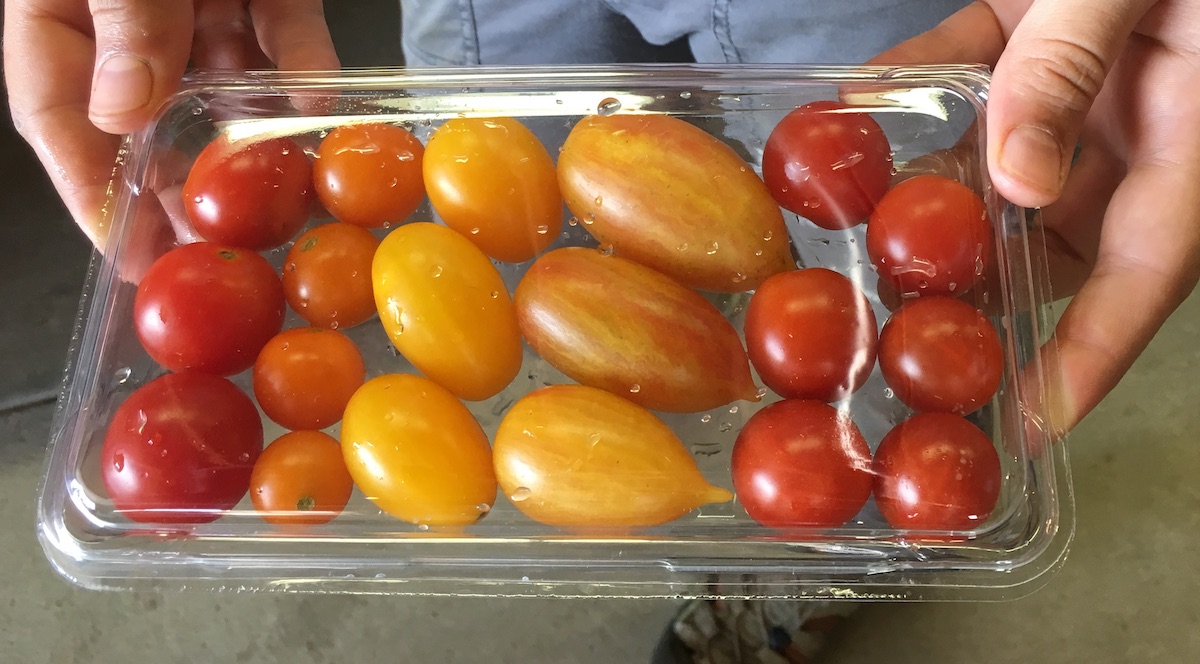 Succulent organic tomatoes from CRS Growers in 2020
Earlier this summer
JULY 15 – 18 at 6:30 or 3:00pm
The Adventures of Frog and Toad
Walking on Water Productions presents family-friendly theatre
Walking on Water Productions
JULY 24, Rain Date JULY 26 at 7:00pm
Music's Recreation
Returning by popular demand!
Outdoor Barn Stage SATURDAY, JULY 31 at 7:00pm, Rain Date AUGUST 1 Dance and Music to Celebrate our Outdoor Stages
Performances on Front Deck; Barn Stage; Drive-In LIVE Stage in the field SUNDAY, AUGUST 8 at 7:00pm, Rain Date AUGUST 9
Cayuga Chamber Orchestra Brass Quintet The program will include:

EWALD: Brass Quintet No. 1

NEW ORLEANS RHYTHM KINGS (arr. Gale): Tin Roof Blues

C. WILLIAMS / S. WILLIAMS: The Royal Garden Blues

LEW POLLACK (Cooper): That's a'Plenty

Enjoy live music in a beautiful outdoor setting during this "drive-in" event. You can sit in the comfort of your car to listen, or bring some lawn chairs and set up in your designated area. Featured Performers: Aaron Witek & Michael Sinicropi, trumpets Madison Warren, horn Thomas Pylinski, trombone David Earll, tuba

photo Dede Hatch Drive-In LIVE Stage
WEDNESDAY, AUGUST 11 at 7:00pm, Rain Date AUGUST 12
A Fiddle and a Song with Rick Manning, Tim Ball, and Naomi Sommers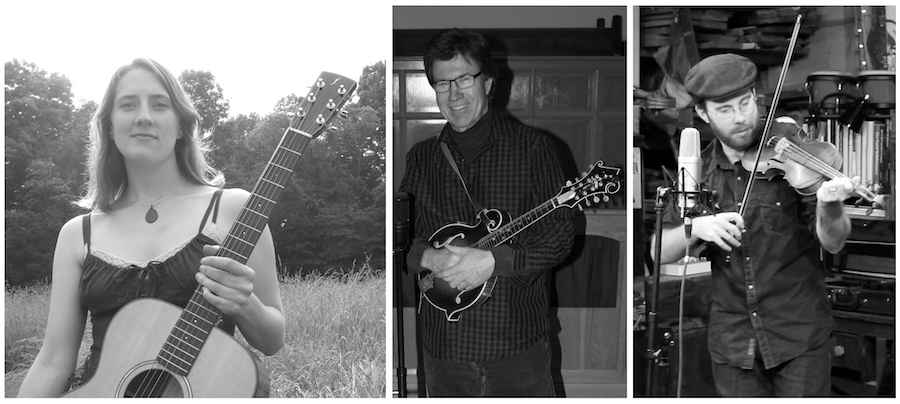 Naomi is a singer-songwriter, guitar, banjo, mandolin, and flute player. Over the years Naomi has sung and played on more than 20 records and has recorded three albums under her own name, as well as one with the slow-grass duo Gray Sky Girls. Naomi's album, "Gentle As The Sun", was recorded in Nashville and produced by the acclaimed musician/producer Jim Rooney (John Prine, Iris Dement, Nanci Griffith, Bonnie Raitt). Gentle As the Sun is a testament to Naomi's years of devotion to the craft of songwriting and a moving expression of contemporary bluegrass roots music. Naomi performs solo, with the Sommers-Rosenthal Band (her family band), with Lisa Bastioni and is releasing a new EP of original songs with Jefferson Hamer.
Rick plays fiddle and mandolin and has performed with Paris Texas, the Falling Waters Trio (Grietzer-Hodgson-Manning), the Contradictions and, formerly, Cornerstone in the Ithaca and Finger Lakes area. Rick has recorded five CD's – three in Nashville with Cornerstone in the 1990's and most recently two with the Falling Waters Trio. He is also the founder and director of both the Winter Village and Falling Waters Music Camps, both held during January at La Tourelle.
Tim Ball is known throughout upstate New York and beyond as a first-class fiddle player and guitarist with deep roots in traditional New England and Irish music. His current project, Upstate Crossroads, explores old fiddle tunes from all corners of New York State alongside repertoire drawn from the surrounding Irish-American, New England, Canadian, and Bluegrass traditions. Tim also performs with the acclaimed Celtic trio Arise & Go, Ithaca singer-songwriter Austin MacRae, and Ithaca's Irish session band Traonach. Well-known throughout the northeast as a contra dance musician, Tim has been a staff musician at the Ashokan Northern Gathering and American Dance & Music Week at Pinewoods. http://www.naomisommers.com/
https://timballmusic.com/ Drive-In LIVE Stage
SATURDAY, AUGUST 14 at 7:00pm, Rain Date August 15
An Evening of Songs with Steve Stull, baritone; John White, jazz piano; Bob Keefe, guitar; Howard Lieberman, drums
The evening forecast is much cooler and so is the weather! Join us for an evening of Jazz Standards, Folk Songs and Favorites at the Drive-In LIVE Stage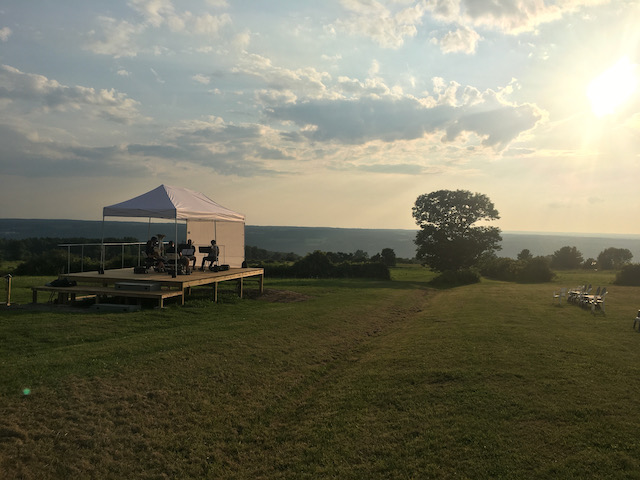 Thank you for observing correct social distancing and/or wearing your mask at the event. We are following NYS Guidelines for "Low-Risk Outdoor Arts and Entertainment."
This programming is made possible in part with funds from the Decentralization Program, a regrant program of the New York State Council on the Arts with the support of the Office of the Governor and the New York State Legislature and administered by the Community Arts Partnership of Tompkins County. Additional funding comes from  NYSCA-A.R.T./New York Creative Opportunity Fund (A Statewide Theatre Regrant Program), and our generous donors. To join our supporters, please visit triphammer.org
Check back for updates!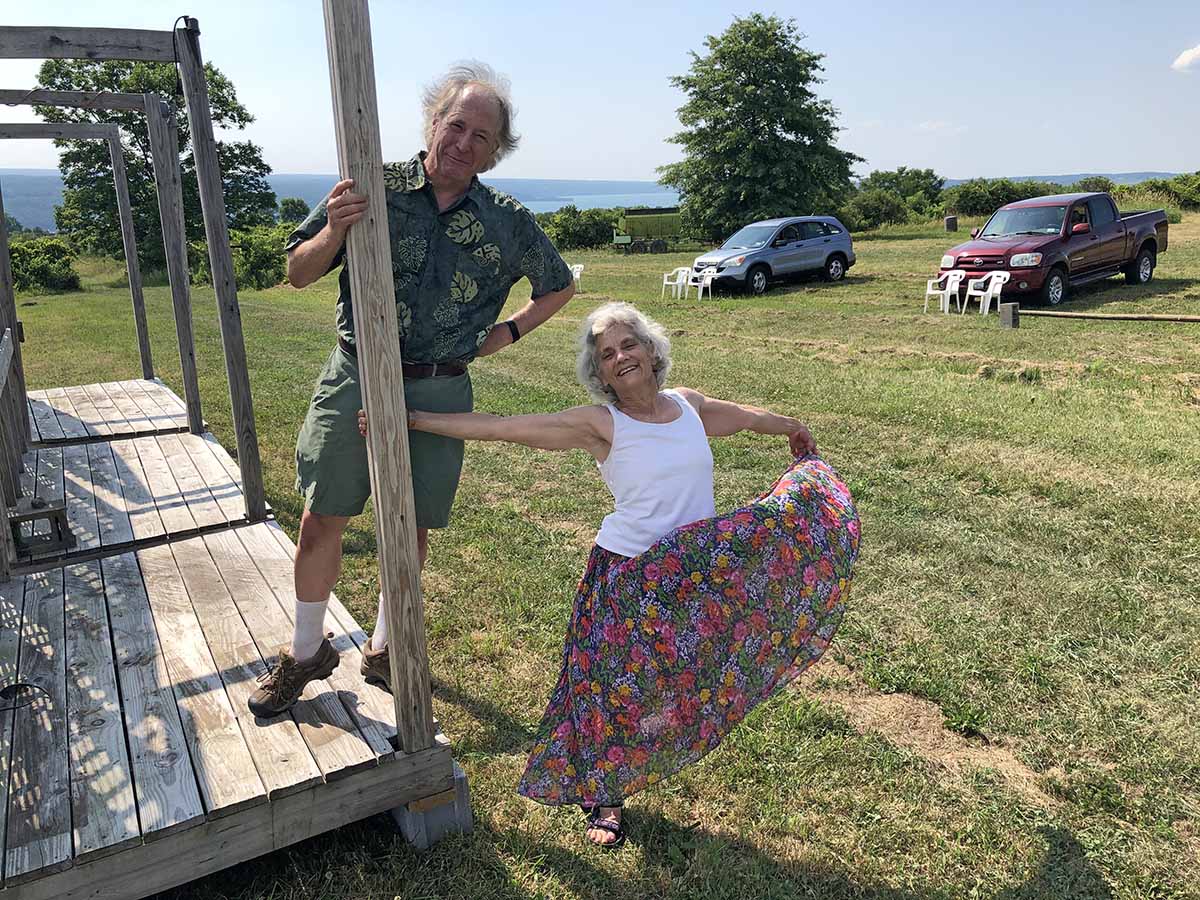 photo Dede Hatch
To donate via US Mail, please send your check to:
CRS Barn Studio, 2622 N. Triphammer Road, Ithaca, NY 14850; 607-257-2043
Steven Stull, Executive Director; Jeanne Goddard, President
Find us or donate on Facebook! https://www.facebook.com/triphammerarts/
If you are able to help support our activities with a donation or would like to volunteer your time or expertise, please visit http://www.triphammer.org/ or contact us at the email or address below. Since we are a 501(c)3 not for profit organization, your donations are tax deductible to the full extent of the law. To help support our programs, please contact us at the email or phone above. To donate via Paypal - please follow the Donate link below.

Triphammer Arts strives to - Provide a unique audience experience - Offer high quality performances at affordable prices - Collaborate across disciplines and bring artists together - Create a sense of community - Live and work in the landscape - Provide rehearsal space and time for other performing artists
Your support matters!
Sign up for our mailing list: