TRIPHAMMER ARTS - OUR 2O2O SEASON
January 26
TENEBRAE - The Passion of Dietrich Bonhoeffer
By Hugh McElyea
May 19 (New date pending - likely to be 8/29/2020 - stay tuned!)
FIGURES IN THE FIELD
A day of public art-making on the farm - FREE

July 10
WATERMUSIC/DANCING ON THE TRAIL
Music and dance at Stewart Park - FREE

July 30-August 2
ATMOSPHERES
Songs and dances of the cosmos
August 30
MOVING LANDSCAPES - an Evening of Dance and Music
A Choreographers Showcase

September 25, 26 - CRS Barn Studio
COCOA CANTATA
A sly look at the chocolate industry
World premiere production
Music by Robert Paterson
Libretto by David Cote
COCOA CANTATA will also be performed June 13 in Saratoga Springs and September 20 in Cortland. Dates will be announced for performances in Syracuse and Manhattan.
Tenebrae - The Passion of Dietrich Bonhoeffer
By Hugh McElyea
Sunday January 26, 2020 3:00 pm
Grace and Holy Spirt Church
13 Court Street Cortland, NY
Admission is Free, donations are welcome
Featuring: Steven Stull, David Neal, Dawn Pierce.
Bill Cowdery - Music Director, Jeanne Goddard -Director.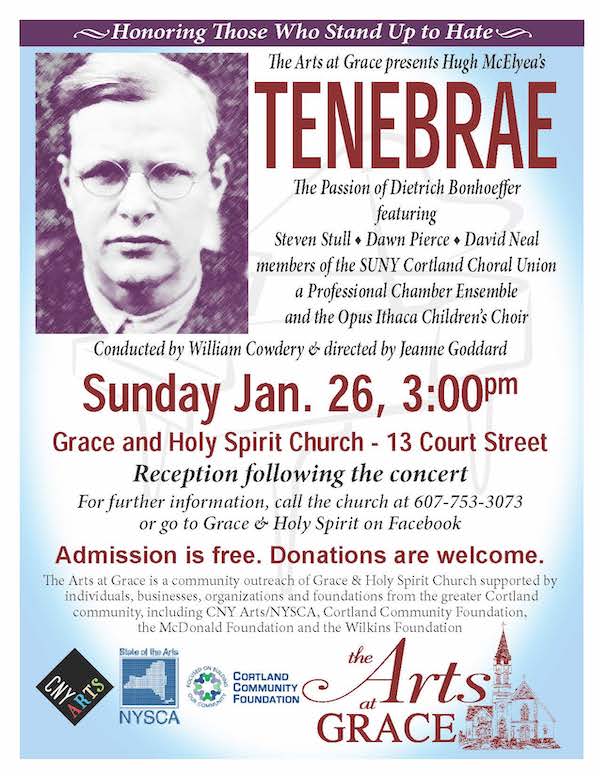 Triphammer Arts Holiday Celebration December 28, 2019 3:00-6:00 pm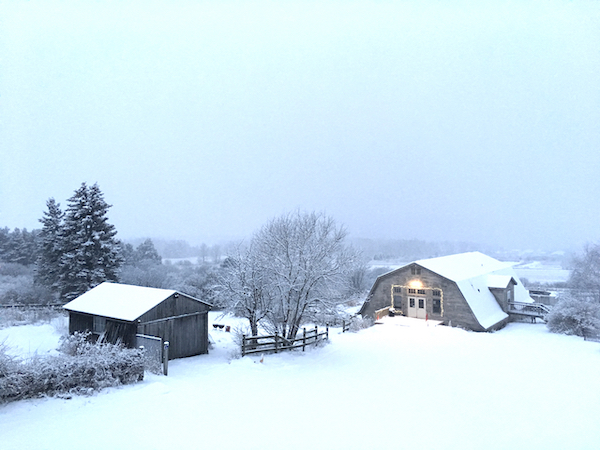 Join us just before New Year's to celebrate our successful 29th season. Bring family and friends. Meet the artists and get a sneak preview of our 30th year at the CRS Barn Studio.
As you may imagine, there will be Chocolate!
(plus other tempting treats and beverages!)

Admission is free. Donations gratefully accepted.
CRS Barn Studio, 2622 N. Triphammer Road, Ithaca, NY 14850

The Cocoa Cantata
Music by Robert Paterson, Libretto by David Cote
World premiere coming in 2020!A brilliant boutique chocolatier... a global chocolate brand...A "supercocoa" engineered by a confectionary chemist...The business of chocolate is not as sweet as the product!
Triphammer Arts is commissioning award winning composer Robert Paterson and
librettist/playwright David Cote to create a new mini-drama for our time - inspired by J. S. Bach's Coffee Cantata. Scored for three singers, string quartet, flute and keyboard, the new piece explores fair-trade practices, the chemistry and symbolism of chocolate, and gender dynamics in the corporate boardroom. The piece will be accessible to anyone who loves chocolate—or great music!
We need your help!
We're partnering with The Arts at Grace in Cortland and The Society for New Music in Syracuse for this brand new piece. The Triphammer Arts' share of the Commission to pay the composer, librettist, and engraving costs is $18,000. We have a matching grant of $3000 toward our first payment. Donate now and DOUBLE the impact of your gift!
To donate via US Mail, please send your check to:
CRS Barn Studio, 2622 N. Triphammer Road, Ithaca, NY 14850; 607-257-2043
Steven Stull, Executive Director; Jeanne Goddard, President
Find us or donate on Facebook! https://www.facebook.com/triphammerarts/
If you are able to help support our activities with a donation or would like to volunteer your time or expertise, please visit http://www.triphammer.org/ or contact us at the email or address below. Since we are a 501(c)3 not for profit organization, your donations are tax deductible to the full extent of the law. To help support our programs, please contact us at the email or phone above. To donate via Paypal - please follow the Donate link below.

Triphammer Arts strives to - Provide a unique audience experience - Offer high quality performances at affordable prices - Collaborate across disciplines and bring artists together - Create a sense of community - Live and work in the landscape - Provide rehearsal space and time for other performing artists
Your support matters!
Sign up for our mailing list:
Triphammer Arts Season Sponsor - Tompkins Trust Company

Marketing Sponsor: Flair Strategic Communications